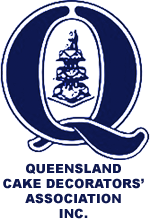 Logan Branch Demonstration Day 29 May 2021 Not to be missed.
Logan City Branch
Demo Day
Venue Bethania Community Centre
88-118 Station Rd,
Bethania
8.45 am for 9.30 am start
Hope to see you there.
QLD QCDA Cake Competition and Display
What makes our Qld QCDA unique is that we have 20 community groups,
based everywhere over Queensland.
We are so excited to announce our 2021  with a new venue
QCDA Cake Competition and Display Expo 2-4 July 2021 
Venue Upper Coomera Community Centre
Upper Coomera
Gold Coast
This is our yearly show where we catch up, enter competitions and learn from some of the best through workshops and demonstrations. Join us for Saturdays dinner awards night.