Welcome to Queensland
Cake Decorators Association
With 21 Branches Statewide for you to belong to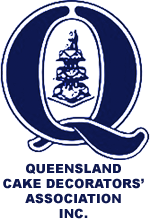 The Queensland Cake Decorators Association (QCDA) is a 'not for profit organisation' that has been operating for over 34 years.
In affiliation with the Australian Cake Decorating Association, with members throughout Australia and is Australia's longest-standing cake decorating association.
We promote and share cake decorating and sugar art knowledge to assist this wonderful art to continue and grow.
Would you like to Join Us?
Every year the QCDA has a cake competition where Novices and Children right through to Masters compete. This also provides a wonderful display for the public and showcases what can be achieved in cake and sugar.
This year QCDA Cake Expo aims to provide a platform for competition, to continually raise cake decorating standards by teaching, while promoting interest for fellow and prospective decorators and the public.
QLD QCDA Cake Expo Friday 23rd to Sunday 25th August
Venue Logan Entertainment Centre Logan 20 minutes south of Brisbane
With over 21 branches to choose from Find the nearest branch to you
Join us this August Fri 23rd to Sunday 25th August at Logan Entertainment Centre, Logan.
20 minutes south of Brisbane
 To foster and improve the art of Cake Decorating and Sugarcraft by providing the opportunity for an exchange of ideas and skills.
To promote and extend the activities of the Association through the registered news bulletin "Sugar Craft News" or other such publications as the Association.