About Queensland Cake Decorators Association
Cake Decorating, Sugar Flowers, Piping, Buttercream Techniques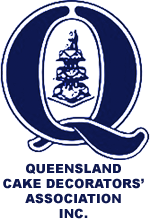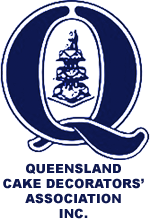 About Queensland Cake Decorators Association
The Queensland Cake Decorators Association (QCDA) is a 'not for profit organisation' that has been operating for over 40 years.
In affiliation with the Australian Cake Decorating Association, with members throughout Australia and is Australia's longest-standing cake decorating association.
We promote and share cake decorating and sugar art knowledge to assist this wonderful art to continue and grow.
The Queensland Cake Decorators' Association Inc. (QCDA) was formed over 40 years ago when several cake decorators gathered together to share ideas and skills in this art.
Since these humble beginnings the Association has grown tremendously.
QCDA has Branches affiliated to our Association from Gold Coast to Mareeba, and west to Dalby. Each of these Branches are working in their community and surrounds through displays and local shows to bring this fascinating art to the public.
Our Association is a non-profit organization where all members give of their time voluntarily.
The QCDA has a panel of Judges who have undertaken extensive training and examination before being accredited. These Judges are invited throughout the State to judge Local Country Shows, the Brisbane RNA, and are often called upon to judge for Interstate competitions.
Our Judges also judge our own QCDA Annual Competition.
QCDA CAKE COMPETITION AND DISPLAY.
Date: Friday 9 September to Sunday 11 September 2022.
Venue: Upper Coomera Centre, 90 Reserve Road, Upper Coomera Q 4209.
Any queries relating to this event please email qcdaeventcoordinator@gmail.com
QCDA STATE SEMINAR.
The dates for our next State Seminar are yet to be finalised.
QCDA BRANCH DEMONSTRATION DAYS.
Also, throughout each year a number of our Branches hold Demonstration Days, these days are a time to develop our skills and learn new techniques etc.
All our Branches welcome new members who are interested in the art of cake decorating, and who are looking at developing their skills. Our Branches when holding their meetings usually prepare a demonstration and/or hold workshops. Sharing of ideas is once more the main aim.
Cake decorating can be a rewarding and fulfilling craft and can be learnt by anyone. It is up to the individual how far they wish to pursue their skills.
Our Mission
 To foster and improve the art of Cake Decorating and Sugarcraft by providing the opportunity for an exchange of ideas and skills.
To promote and extend the activities of the Association through the registered news bulletin "Sugar Craft News" or other such publications as the Association.
Would you like to Join Us?