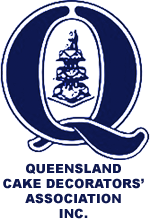 Join one of our branches today
Listed below are branches available for you to join.
Visit their Facebook Page for more info and for photos and see what is possible.......
Join and belong to your cake community. 
We meet monthly or every other month to learn, connect and belong to our cake decorating community. We share information about new designs and techniques. Once a year we have branch demonstration days. A great way to meet up with other branch members.
Facebook is a great way of keeping in touch and most of our branches have one.
Bayside Branch  Branch
Would you like to join our local branch?
We meet the first Monday of each month 7 pm for a 730 pm start.
Meeting and then demonstration or workshop.
Venue
Old Shire Clerk Cottage
Tingal Road, Wynnum
For more information, we would love you to join.
Please contact Heather Drake
38243349
Beaudesert Branch
Are you interested in the art of Cake Decorating?
Would you like to learn?
The Beaudesert Cake Decoration Association meets on the 3rd Saturday each month for demonstrations, workshops and classes.
For more information
Contact Dale Pidgeon
0432202457
Brisbane Central Branch
First Saturday of each month.
Meeting place St Davids Church Hall, Chelmer Street East. Chelmer.
9 am to 11.30 am
For more information
Please contact  Sue Lapworth
3376 5271
New members are very welcome!
Brisbane North Branch
We meet at the Mitchelton Adventist Community Hall at 7.15pm on the third Monday of every month.
New members are very welcome!
For more information
Maria Huff
brisbanenorthcakedecorators@gmail.com.
Cairns Branch
Meetings are held at the Girl Guides Hut on Pease Street, Manoora at 6:30 pm on the second Wednesday of every month.
For more information contact
Kylie Tucker 07 40646229
Caloundra Branch
Meet 3rd Saturday of every month.
Venue Indoor Caloundra Bowls Club
Burke Street Golden Beach Caloundra.
1pm until 4pm
We endeavour to have a demonstrator at most meetings, first few meetings are free before joining.
Refreshments are provided.
For more information
Please Contact Sue Pinker
0423930905
Dalby and District Branch
The Dalby and District Cake Decorators Assn meets on the 2nd Tuesday of each month at the MYCNC.
All are welcome to join the meetings, you can message directly through this page for further information.
We'd love to share our passion for cakes onto you and hope that you find our page informative.
For more information please contact
Katrina Chapman 07 46622816
Darling Downs  Branch
Would you like to join us?
If so we meet the first Saturday of each month 1 pm to 4 pm We offer afternoon tea.
The first month we have our meeting and a short demonstration.
Every second month we have a workshop. The venue is Baptist Church Hall, Holburton Street, Rockville.
For more information contact
Lorraine Connolly
07 46962138
Northern Gold Coast
A group of cake decorating enthusiasts sharing their art in friendship and harmony.
For more information
contact Helen Dissell 0406110803
Peninsula and District Branch
Meet on the fourth Saturday of every month (unless stated otherwise) at the Redcliffe Show Grounds.
Our meetings also feature a practical demonstration by guest skilled cake decorators and are a great way to learn new skills and get handy hints.
For more information contact
Helen Pearson 54988346
Rockhampton Branch
Rockhampton Branch
Carolyn Roberts 0418227595
South Burnett Branch
The 
South Burnett Cake Decorating Association

 hold their monthly meeting at the Wondai Regional Art Gallery in Wondai from 9:30 am to 1:30 pm on the first Thursday of each month. If you would like to learn more about this craft, come along and watch the demonstrations and pick up a few tips.
For more information contact
Gloria Berry 0437774238
Sunshine Coast  Branch
Sunshine Coast Branch is a part of the QLD Cake Decorators Association. New members are most welcome to come and say hello.
For more information contact
Dawn Hebblewhite 0427753177